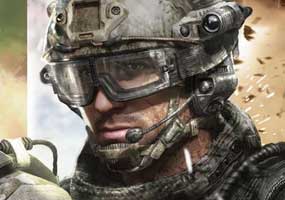 Game Terbaru Call of Duty Modern Warfare 3 Siap Tempur Hadir Bulan November 2011
- Activision dikabarkan tengah mempersiapkan debut seri terbaru Call of Duty. Modern Warfare 3, dilaporkan akan rilis pada November 2011.
Seperti sudah menjadi tradisi. Seri Call of Duty yang digarap Actvision Blizzard, selalu diluncurkan pada bulan November setiap tahunnya. Raksasa game itu pun mengaku hal ini berlaku untuk Modern Warfare 3.
Belum banyak detail yang terungkap mengenai sistem permainan dalam game ini. Namun dalam laporan yang ditulis kotaku dan dikutip detikINET, Minggu (15/5/2011), game ini akan menampilkan pertempuran di kota New York, London dan Paris.
Game akan dimulai dengan misi penyerangan di kota Manhattan dan berakhir di Dubai. Ada beberapa karakter yang dibisa dimainkan dalam game ini, sedangkan untuk alur ceritanya melanjutkan versi terdahulu.
Seri Modern Warfare memang selalu sukses di pasaran, namun kali ini game tersebut tampaknya memiliki tantangan yang berat. Sebab, berdekatan pada jadwal perilisannya EA juga telah menyiapkan Battlefield 3 yang tak kalah hebat.
Baik Modern Warfare 3 atau Battlefield 3 kabarnya akan mulai menunjukan tajinya pada perhelatan Electronic Entertainment Expo (E3) 2011 Juni mendatang. Well, kita tunggu saja performa kedua game tersebut.